When it comes to accurately diagnosing and treating your pet after they've experienced an injury or illness, you can count on our veterinary team to have the latest diagnostic equipment, including digital imaging devices and ultrasound availability.
Radiographs
Whether it's the inspection of a potential broken bone or the contents of a chest cavity, we're able to look at it all using the latest radiographic technology. Our x-ray processor produces quick and crisp images in under a second, making the imaging process smooth and painless for you and your pet. You won't have to wait long for us to get the images we need with this non-invasive process, and we even have the ability to send radiographs off for additional insight from radiology specialists when needed.

Ultrasound Imaging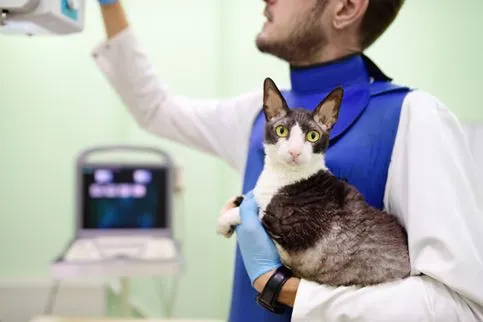 Ultrasound imaging involves using sound waves to create an image on a computer monitor. It's an incredibly useful tool used when we need a more complete picture of an organ, the function of the heart, or even to detect the presence of a foreign body in the intestinal tract. We don't have an ultrasound machine here, but we do have a team of sonographers we can schedule your pet with. They will come to the clinic to perform the ultrasound scan in the presence of your pet's trusted vet, and you'll be able to discuss the status of your pet's condition with them that day.


Diagnosing Your Pet's Ailment or Injury
We're here for you and your pet during the tough times when diagnostics are needed, and we make it a point to have the most up-to-date technology to make that process as efficient and accurate as possible. If you feel your pet may need imaging or other diagnostics, please call, text or email us to schedule an appointment.