Here at Windsor Park Veterinary Clinic, our Veterinarians have decades of experience in diagnosing and treating a wide variety of internal diseases. For more complex cases, we work closely with specialists to determine the best course of action for your pet. Your pet's health always comes first!

The first step to diagnosing any illness will be a thorough examination performed by our Veterinarians. We have a plethora of tools and equipment available, like digital x-ray imaging, ultrasound and an in-house lab, to aid our Doctors in their diagnoses.
Examples of Internal Veterinary Medicine: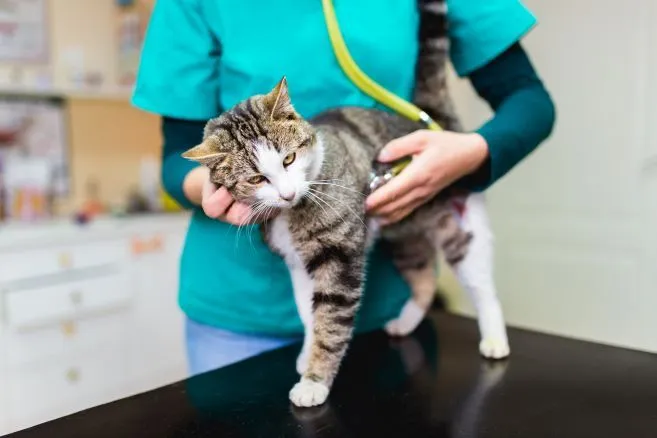 Cardiology (conditions of the heart)
Endocrinology (glandular and metabolic conditions, like diabetes)
Gastroenterology (conditions of the gastrointestinal system, gallbladder, and liver)
Hematology (blood disorders)
Infectious Disease (parasitic, fungal, viral and bacterial infections)
Nephrology (disease of the kidneys)
Neurology (disease and condition of the brain)
Pulmonology (lung and respiratory conditions)
Rheumatology (joint and musculoskeletal conditions, like arthritis)
Signs That Your Pet May Need an Internal Medicine Consultation:
Your pet has developed a persistent cough that is not improving
Your pet is experiencing increased thirst, and/or frequent urination
Your pet is experiencing chronic vomiting or diarrhea
Your pet seems lethargic or listless
Your pet has developed a rash, hives, or sores on their body
Your pet is noticeably scratching more often
Your pet is experiencing abnormal discharge from eyes, nose, skin, or genitalia
Your pet has increased appetite but seems to be losing weight
Your pet has very little to no appetite
Your pet is having difficulty or hesitancy walking, limps, or seems to drag their paws when walking
Your pet wheezes or seems to have difficulty breathing
Your pet isn't active and doesn't seem to enjoy their usual activities, like playing or going to the park
Your pet is so active or overstimulated that they seem restless and have difficulty sleeping
Your pet is suddenly aggressive or their personality has drastically changed
If you're concerned your pet is experiencing any of the symptoms above, please reach out to us via phone call, text or email. We will respond to your concerns as soon as possible.